SPONSORS 2018
FA Albin and Sons for lantern making workshops and procession
British Land for schools' foreshore trips with Thames Larker
KFH towards the lantern workshops and procession
Neighbourhood Fund for Schools Ceilidh workshops, Schools Grand Ceilidh & Family Barn Dance
United St Saviour's Charity for opening event Illuminate Show, St Peter's Church
Sellar for Tales and Songs of Migration at Sands Films Theatre, use of Decathlon store meanwhile space for Schools' Grand Ceilidh and lantern making workshops and procession
Tobin Ventures towards the lantern workshops and procession
NSET  for Mayflower summer 2019 schools light-projected drawings

Partners
Photograph of Hermione the donkey from Surrey Docks Farm with a mask made of her mother Alice the donkey for Sands Films' 2000 feature film 'The Children's Midsummer Night's Dream', with a cast of local children.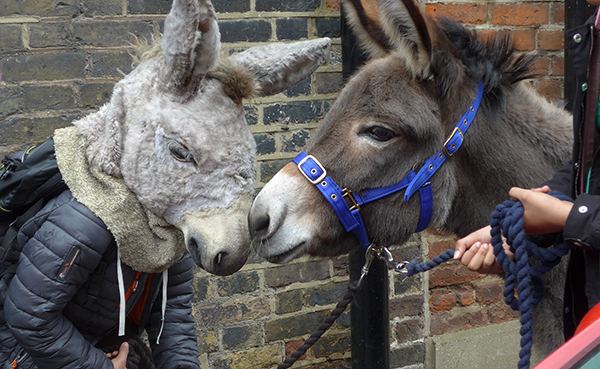 Official  PartnerS:
2018 Local Partners:
Artistic Artifact group Canada Water Library
BERNARD CREELY   
photographer  http://riverhythm.tumblr.com/
Bizzie Bodies
http://www.bizziebodies.co.uk/
Cathy Wren
artist and designer
CUMING MUSEUM
http://heritage.southwark.gov.uk/search/*/objects?filter=department%3ACuming%20Museum&sort=title-asc
London Bubble Theatre Mayflower 2020 project : Charting the Mayflower​
http://www.londonbubble.org.uk
Mayflower TRA Hall & Community Centre​
Mr Cappuccino,  jamaica rd
providing hot chocolate at the Illuminate Show 22.11.18
Museum of London in Docklands
Musica Antica Rotherhithe​
​Rotherhithe and Bermondsey Choral Society​
Rotherhithe and Bermondsey Local History Society​
https://www.facebook.com/rbhistorysociety/
Rotherhithe Picture Research Library
www.sandsfilms.co.uk/rotherhithe-picture-research-library.html
Rotherhithe Seagulls
Rotherhithe Shed
St Peter and the Guardian Angels Catholic church
https://www.facebook.com/stpeterandtheguardianangels/
Sands Films 
http://www.sandsfilms.co.uk/About.html
the Ship St Mary's SE16
providing hot cider at the Illuminate Show 22.11.18
Stave Hill Ecology Park
​https://www.tcv.org.uk/urbaneco
Surrey Docks Farm​
http://www.surreydocksfarm.org.uk
Thames Larker​
Time and Talents
http://www.timeandtalents.org.uk/
The Bluestocking Society: Tricity Vogue, Audacity Chutzpah and Ginger Blush.
What's On in Rotherhithe Group​
Other Partners 
Ceilidh Tree
Ceilidh Tree perform lively Celtic folk music for dancing at events in England & beyond. Ceilidh Tree have performed for events at Windsor Castle, the Globe Theatre, Barbican, CBeebies Prom Party, Jamie Oliver's Feastival and on ITV.
"Jig yourself into a frenzy" – Timeout
"London's finest ceilidh band" – Evening Standard
"Footstomping fiddles and caller to show the moves" – Timeout

London College of Communication: website building
Website designed by Juliette Stuart
And Jack Merton
2017
Description of the Schools' Ceilidh Workshops and Grand Ceilidh November 2017. Partner was Time and Talents
http://www.timeandtalents.org.uk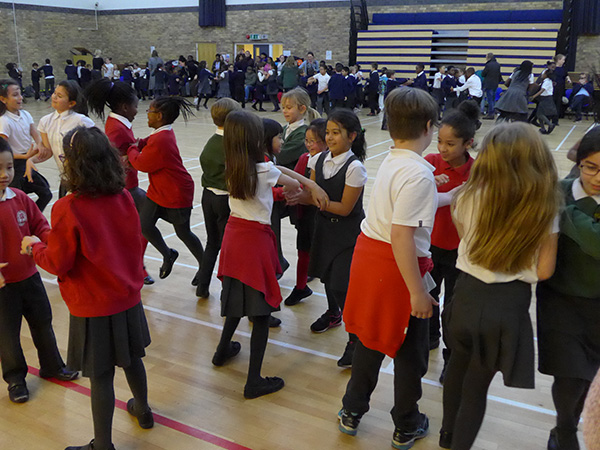 PARTNERS 2017
Bacon's College
Canada Estate TRA
Illuminate Rotherhithe Committee
James Millar
Jamie Coomarasamy
London Bubble Theatre
Mayflower Hall, Neptune Street
Midnight Apothecary
Museum of London Docklands
Mystery Object Group CWL
Rotherhithe & Bermondsey Choral Society
Rotherhithe & Bermondsey Local History Society
Rotherhithe Picture Research Library
Rotherhithe Shed
St Mary's Church
Sands Films
Southwark Presents
Time & Talents
Tunedin London
Watch House Deli
What's On in Rotherhtihe Group
WISE16
SPONSORS 2017
F.A Albin & Sons
British Land
Lord Mayor of London
Sellar
Southwark Council
Southwark Music Hub
Tobin Ventures
United St Saviour's Charity
PERFORMERS 2017
The Ceilidh Tree
Citizens of the World Choir
Jane Deakin & Steve Hodges
Jimmy & Sid
Local people
Rotherhithe & Bermondsey Choral Society
Tricity Vogue
PARTNERS 2016
Brunel Museum
Illuminate Rotherhithe Committee
Sands Films
St Mary's Church
SPONSORS 2016
United St Saviour's Charity