In 2017, with the life-changing plans for the Canada Water development in mind, concentrated efforts were made to make contact with marginalised communities. Partnerships emerged through collaboration, and friendships were made across the economic divides through the work to build a free festival for all. Those who would not otherwise have set foot in 'old' Rotherhithe became essential to the success of the lantern procession and concert on Thanksgiving Eve and to the events which followed. Five hundred children from seven primary schools danced together on one night. And those from 'old' Rotherhithe enjoyed a family Ceilidh dance at the Mayflower TRA hall in 'new' Rotherhithe', a venue they had not been to before.
THURSDAY 23RD NOVEMBER 2017
Photographs from the lantern procession by Wendy Novak
Photograph by tommo photo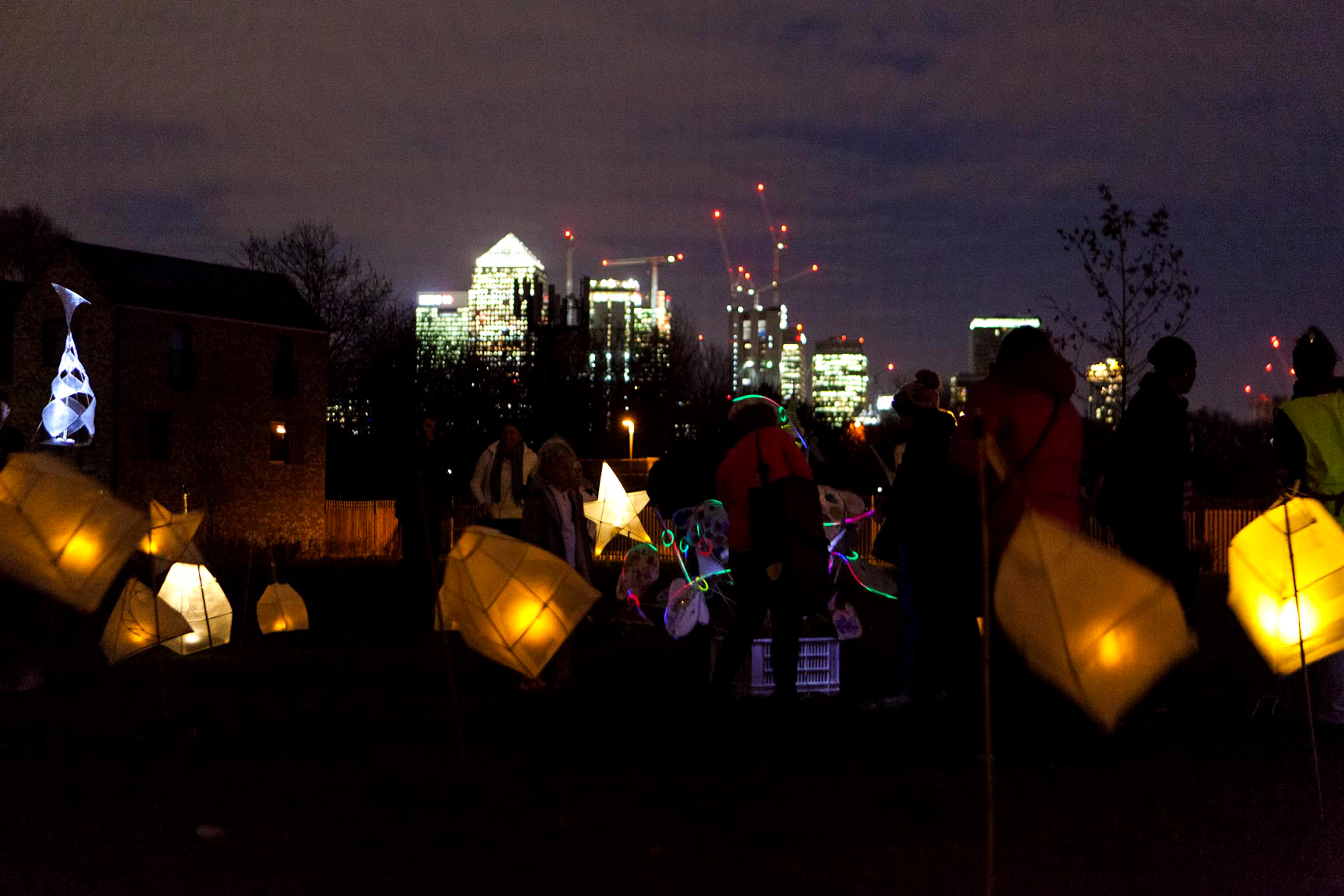 MAYFLOWER CONCERT 23rd November 2017 Programme

Speakers:
Sailing into an Uncertain Future
Cathy Wren, local artist and theatre designer
The piece was read by Nathan Osgood, local actor, director & musician, at the Mayflower Concert St Mary's church 2017. 
Those who boarded the Mayflower set out across an unknown sea to an unknown destination, in the hope of finding a better life, uncertain whether they would live or die. Half of the pilgrims died during the first winter, never to set foot in the new land. The remaining pilgrims survived only with the help and collaboration from the indigenous Indians already living in the New World. The pilgrims had not anticipated the climate to be so cold and the indigenous people taught them how to sow seeds in the frozen earth.
Today migrants escaping death and persecution, or perhaps just hoping for a better life, are crossing dangerous seas packed onto fragile and overcrowded boats by ruthless smugglers. We watch on TV people desperately bailing water and slowly sinking into the sea as night draws in. The huge numbers we observe dehumanise the reality. We become numbed and feel powerless to act, yet we are complicit in a greater system.
The migration crisis is complex: there is no one solution, no one cause.
A Libyan man on a rescue boat in the Mediterranean, his two small sons at his side broke down as he cried, ' My children are playing everyday amidst death. I feel I have to try to bring them to a better life'.
So far this year 2,982 migrants have died attempting to cross the Mediterranean from Libya to mainland Europe. They board boats to cross an unknown sea to an uncertain destination, hoping for a better life and not knowing whether they will live or die .
Perhaps with the onset of climate change we need to bear in mind that in the not too distant future we will all potentially be refugees.
The Past and the Present
Sue Challis, Chair Mayflower community hall Neptune ST
We know progress has to happen; but even with regeneration – by losing the old ways communities can be destroyed. The Canada and Mayflower estates are trying to bring back old ways. We need to let our children know the fun that was had as a child playing in the streets, and the same with the Docks: years ago the kids used to watch the ships – they weren't only the disco and pleasure boats like they are now. The Docks were a livelihood, so too the Biscuit Factory. There was a Lard factory in Clack Street. It caught fire and went up in a ball of flame. On a Friday women used to go to the pub to get their husband's wages or otherwise the wages would be spent that night in the pub. Women used to have their hair in curlers all week, then on a Saturday they'd get all dressed up and go to the pub and have a port and lemon. You'd never swear in a pub. The kids would wait outside the pub with a lemonade and a penny arrowroot biscuit. In my block in Renforth Street, the air raid shelters are still there, though covered. To think that families went down there till the raids finished, got out and went on with their lives. It was a way of life.
Photographs by James Millar
Photographs by tommo photo:
Film of the concert shot by Jamie Dale.
Reviews of the concert:
"A triumph!"
"Absolutely brilliant!" 
"That was an absolutely perfect evening . . . the concert with its historical and social commentary was absolutely riveting – an aesthetic and intellectual delight."
"I never imagined it was going to be so fantastic!"
"How can you top that?"
Friday 24th november 2017
Citizens of the World Choir and local people
Programme:
Songs & Tales of Migration with the Citizens of the World Choir & Local People
Sands Films Theatre 8.00pm Friday 24th November 2017
Solos
Shoals o' Herring Traditional:  David Mann (voice and guitar)
Sea Fever by John Ireland: Marianna Suri and Tom Donald (piano)
Villanelle by Paul Harris:  Meg Ella Brookes and Tom Donald
Sons of the Ocean:  Francesco Pio Ricci and Natalie Miya-Fluxman
Aux Sombres Héros de l'Amer: Julie Vallortigara  & choir
Choir
Mayflower Shanty Traditional with David Munn and Tamer Abd Alkrem
River by Tom Donald
Safe Passage by Tess Berry-Hart
Siahamba (traditional Zulu folk song)
Ithaka: poem by Constantinos Kavafis ( C. P Cavafy 1863- 1933)
Choir Director: Marianna Suri
Local Speakers
Olivier Stockman: (France, Belgium)
Cllr Anood Al Samerai: (Iran, Kuwait)
Gary Magold: (Germany, Scotland)
Ania Marzec Manser: (Poland)
Emilie Mendy: (Guinea- Bissau, Senegal, France)
Andra Flueraru: (Rumania)
Rose Campbell: (Whitehorse Lane E1)
"It was inspirational, educational and at times deeply moving to hear these personal stories of migration from the mouths of individuals who have made the journey to our shores, either many years ago or more recently. Some of these individuals were our close neighbours and colleagues, whose stories we had never heard or thought to ask about. Stories such as these should be retold again and again in diverse communities such as ours, to remind us all how fortunate we are to share our lives and our neighbourhoods with friends and neighbours from other countries, other cultures, and other histories".
"We really enjoyed last night listening to the singing and what local people said about their lives. I wanted to get up on the stage myself and tell about my nan and the War and my grandad in the docks and where he came from in Ireland. The singing was lovely."
 2017 Programme of Free events: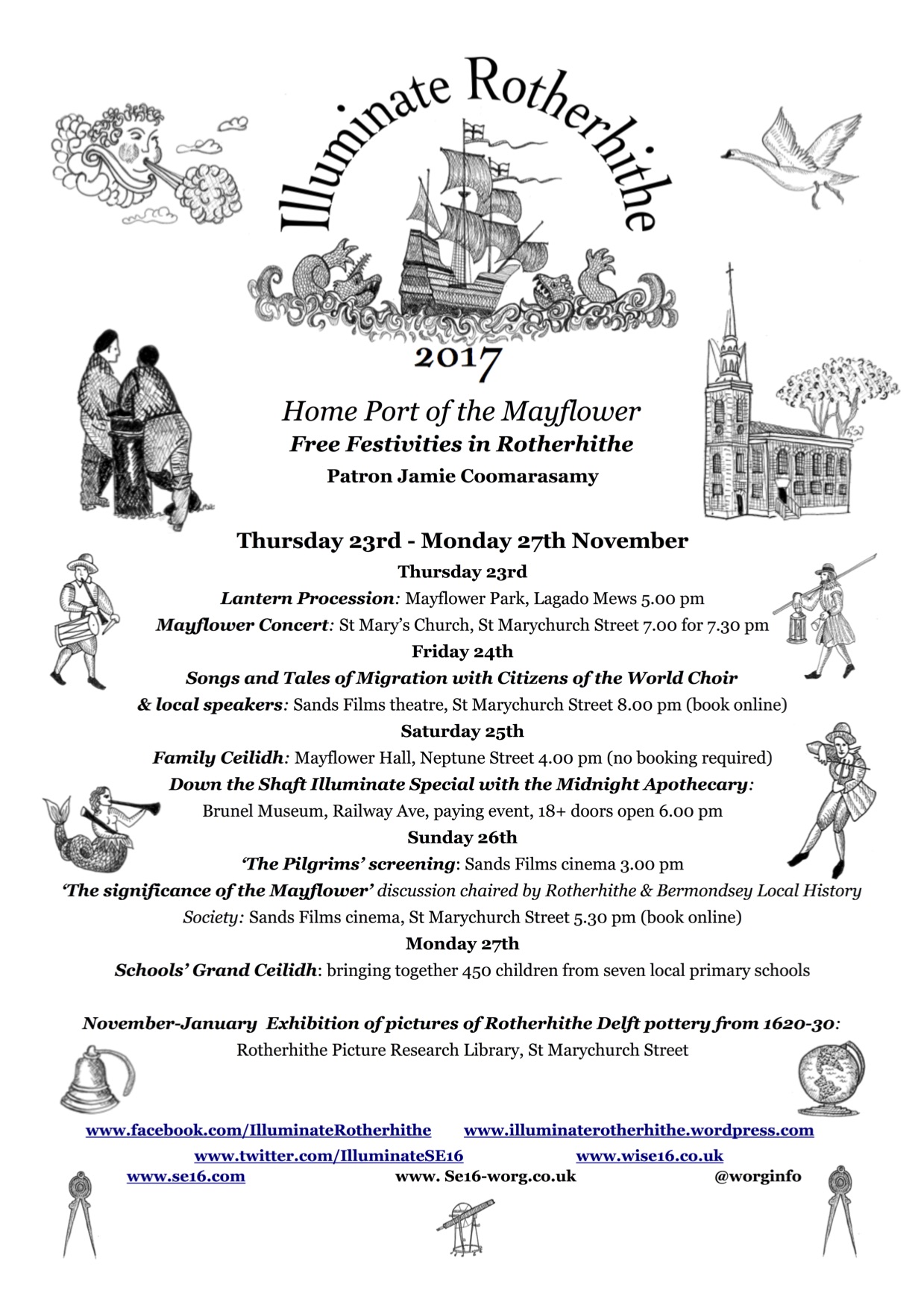 Header image by tommo photo