free  programme for 2018
22-26  NOVEMBER  2018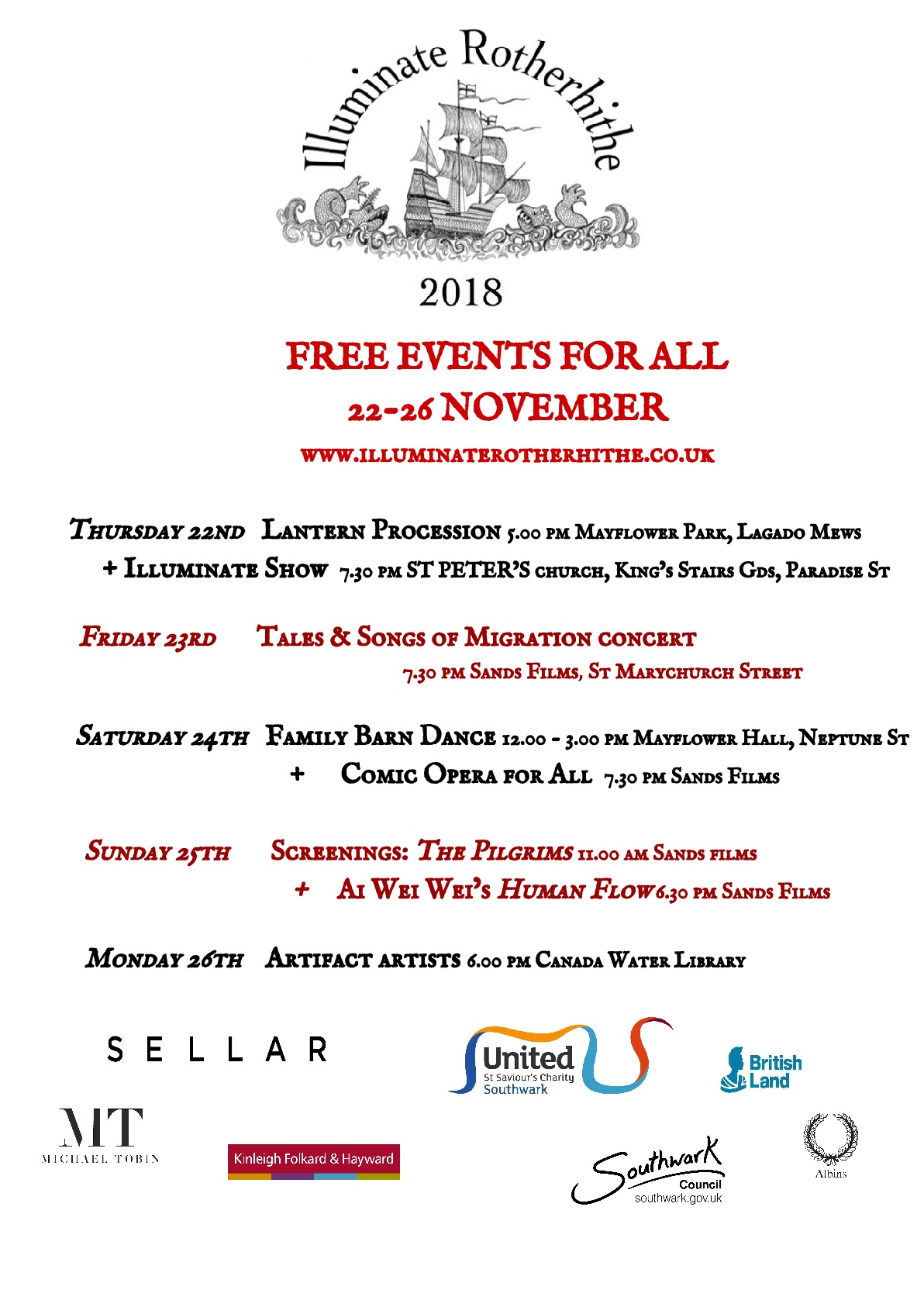 Thursday 22 November – Lantern procession for all
5.00 pm departs Mayflower Park, Lagado Mews
6.00 pm arrives St Peter's and the Guardian Angels church, King's Stairs Gardens SE16, where there will be refreshments
7.30 pm free Illuminate Rotherhithe variety show in St Peter's Church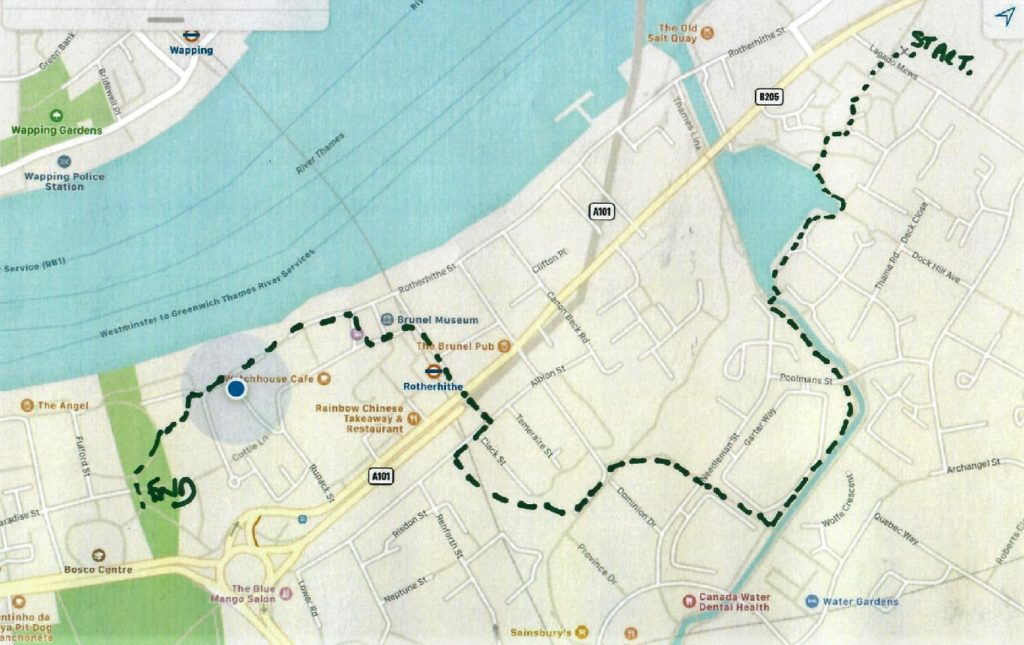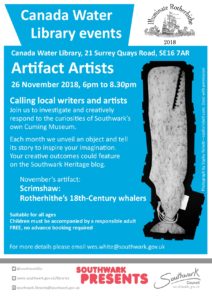 Previously billed as the 'Mystery Object Group', we regularly invite local artists and writers to Canada Water Library to respond to items from the Cuming Museum and other objects of local historical interest. Last year, we visited the Rotherhithe Picture Research Library and learned about tinware ceramics – you can see the results on the Southwark Heritage blog.
As part of this year's Illuminate Rotherhithe we are looking at scrimshaw (as illustrated on the poster) and the history of whaling in the area.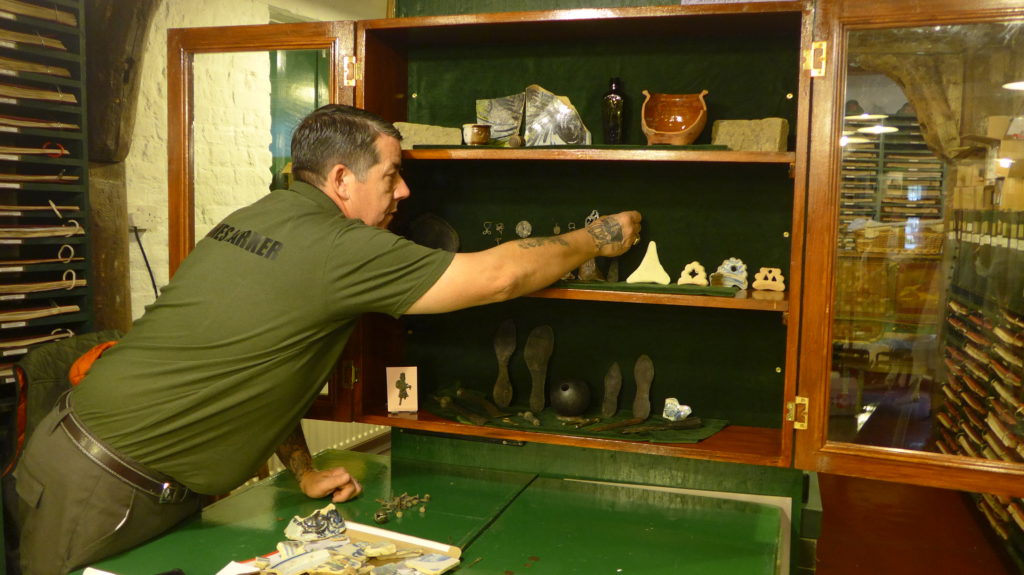 Exhibition of 16th-17th century mudlark finds of Thames Larker in Rotherhithe Picture Research Library
19th September: Big Bottle Count. Londoners collectively use a BILLION single-use disposable plastic bottles each year. Many of these end up in the River Thames and flow out to the ocean
This year the Big Bottle Count came to Rotherhithe with Thames 21 and Tideway for IR 2018  https://twitter.com/RotherhitheGull
30th September : The Measuring Of The Mayflower – Kings Stairs Gardens SE16. This free family event run by London Bubble for the Charting the Mayflower Project explored how 133 people, plus provisions and livestock fitted on board the Mayflower in 1620
September/October: free school assemblies for seven local schools on the subject of Language and Migration with the Museum in Docklands
October/ November: free foreshore history walks for local schools with local mudlark Thames Larker, see above
October/ November free lantern-making workshops at local venues run by London Bubble in preparation for the lantern procession starting 5.00 pm Mayflower Park, Lagado Mews on 22nd November 2018
Week of October 15th: Free ceilidh workshops for seven local schools with The Ceilidh Tree band
9th  November Schools' Grand Ceilidh with The Ceilidh Tree band for 500 children from seven local schools at the Decathlon store meanwhile space made available by Sellar property group
March to November:  Surrey Docks Farm and Stave Hill Ecological Park Pilgrim Food Project
September/October Bizzie Bodies : 'The River's Tale poem project
The River's Tale
A poem about the river, published in 1911 by Rudyard Kipling who also wrote the Jungle Book in 1894
Twenty bridges from Tower to Kew–
(Twenty bridges or twenty-two)–
Wanted to know what the River knew,
For they were young and the Thames was old,
And this is the tale that the River told:–
"I WALK my beat before London Town,
Five hour up and seven down.
Up I go till I end my run
At Tide-end-town, which is Teddington.
Down I come with the mud in my hands
And plaster it over the Maplin Sands.
But I'd have you know that these waters of mine
Were once a branch of the River Rhine,
When hundreds of miles to the East I went
And England was joined to the Continent.
"I remember the bat-winged lizard-birds,
The Age of Ice and the mammoth herds,
And the giant tigers that stalked them down
Through Regent's Park into Camden Town.
And I remember like yesterday
The earliest Cockney who came my way,
When he pushed through the forest that lined the Strand,
With paint on his face and a club in his hand.
He was death to feather and fin and fur.
He trapped my beavers at Westminster.
He netted my salmon, he hunted my deer,
He killed my heron off Lambeth Pier.
He fought his neighbour with axes and swords,
Flint or bronze, at my upper fords,
While down at Greenwich, for slaves and tin,
The tall Phoenician ships stole in.
And North Sea war-boats, painted and gay,
Flashed like dragon-flies, Erith way;
And Norseman and Negro and Gaul and Greek
Drank with the Britons in Barking Creek,
And life was gay, and the world was new,
And I was a mile across at Kew!
But the Roman came with a heavy hand,
And bridged and roaded and ruled the land,
And the Roman left and the Danes blew in–
And that's where your history-books begin!"
Header image: Rotherhithe Seagulls