Illuminate Bermondsey 2023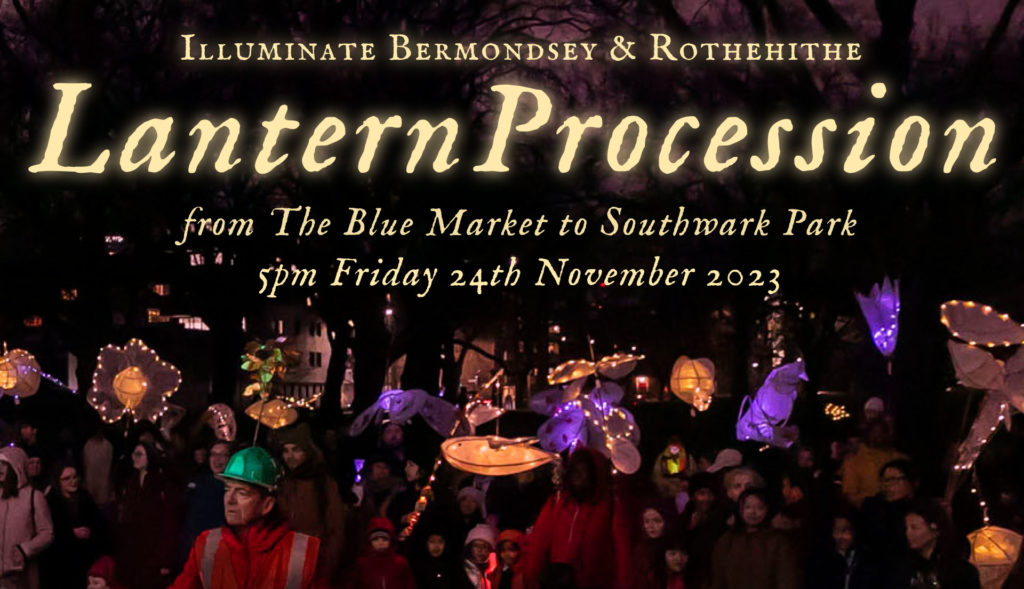 Lantern Parade from The Blue Market to Southwark Park
5pm Friday 24th November 2023 in Market Place, London SE16 3UQ
Music and food at Southwark Park Bandstand 6pm – 8pm
If you have enjoyed Illuminate Bermondsey please help us by giving your feedback. It's quick and anonymous and makes a difference. The information helps us get funding for our events and improve what we do. 
Free Workshops
Thanks for coming. If you enjoyed a workshop please fill in our feedback form
Thank you to
Supporters
Southwark Present Cultural Celebration Fund
Rotherhithe Consolidates Charities
MIK
The Blue Market Place
Big Local Works
Blue Bermondsey BID
UMAT
Sands Films

Local Community
Blue Anchor Library
Time & Talents
Blue Youth Club
Rotherhithe Primary School
Appleby Blue
Boutcher Primary School
Redriff Primary School
Bede House
Riverside Primary School
St James Primary School
Albion Primary School
Alfred Salter Primary School
Wade Hall
Setchell & Longfield TRA
Southwark Park Gallery
London Bubble
St. Michael's College
Special thanks to
Annabel Stockman
Russell Dryden
Pedro Romero
Luds Van Den Belt
Annie Whyte
Matthew Allgood
Sarah Vaughan
Patrickson Obanya
Stephen Pierre
David Laurence
Art Team
Jo McCorrmick
Sarah Sparkes
Gail Dickerson
Nicole Mollett
Cathy Wren
Lauraine Street
Paul Wady
Wendy Nowaks
Daren Callow
Annabel Stockman
Illuminate Bermondsey & Rotherhithe is a free annual festival for local residents, inspired by the histories of the Thames, the docks, and migration. Local schools and community groups will create their own lanterns at artist-led workshops, and everyone is invited to gather with their illuminated artworks in Blue Bermondsey Market Place at 5 pm on Friday, November 24, 2023. The parade will depart as darkness falls for Southwark Park Bandstand, which will be adorned with illuminations, food, and music when the parade arrives.
We will be hosting a series of lantern-making workshops before the parade, where you can craft your lantern for the procession. We will offer activities suitable for various skill levels, ranging from small jam jar lanterns to large willow lanterns. Our artists will be there to assist everyone in designing and building their lanterns for the parade.
The overarching theme for all Illuminate events has been the local history of migration, from the Mayflower to the transient London population of today. This year's parade theme will be 'Food and The Blue'. Rotherhithe and Bermondsey has a celebrated history as a bustling dock, where food for the city would arrive by ship for storage and processing in the vast warehouses and factories, Bermondsey became known as London's Larder. The Lantern Parade will narrate the story of boats arriving by water in Bermondsey and Rotherhithe, bringing food from all corners of the globe, along with people and culture. Here was Britain's first Tin Can Factory, and the famous Peak Frean's Biscuit Factory employed thousands of local people. While the factories and warehouses are now homes and workspaces, people from all over the world still come here to sell and share their food in local shops, cafes, and marketplaces. In The Blue Market where our parade assembles you will find street food vendors selling everything from Jellied Eels to Jerk Chicken.
During our free lantern-making workshops, you can create boats jouneying from overseas with flags representing different places, or you can make lanterns depicting the various types of food they brought here – biscuits, cans, coffee, fish, dumplings, cheeses, cakes, and an array of fruits and vegetables.
Do you have a favourite food? Have you travelled overseas? We all love to share our favourite foods and tales of travel, and we hope this theme will bring local people together to share their stories and experiences as they create their lanterns for the parade.
In addition to visiting local schools and community groups to make lanterns, our team of artists will be conducting free workshops open to the public in The Blue Market and at other local venues. Check our website for the latest details and booking information.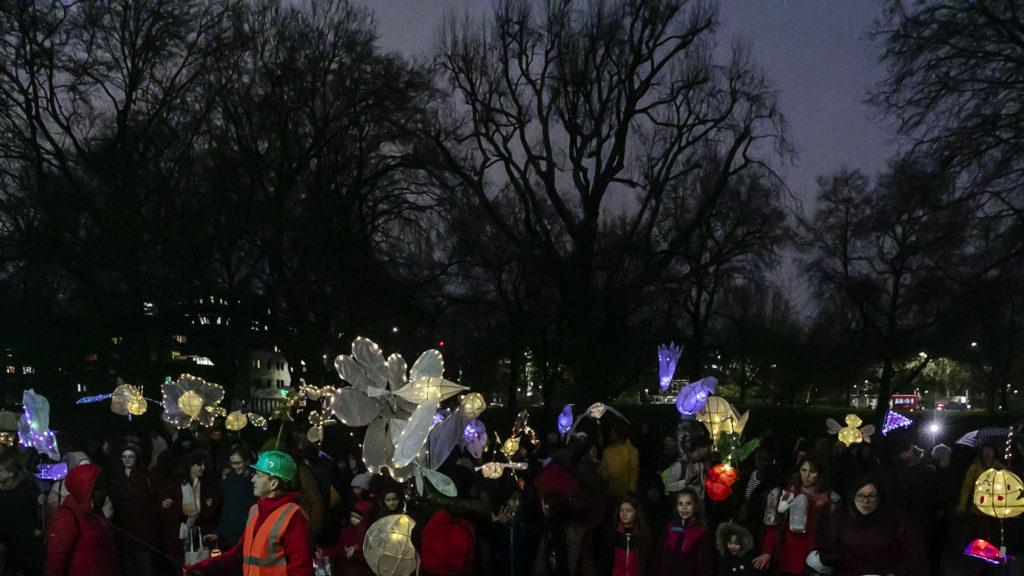 Background
Illuminate Rotherhithe is a community lantern parade established by local residents in 2016 and has grown year by year, involving new participants each time in the creation of their lanterns in schools, libraries, TRA Halls, Care Centres, pubs, churches, youth clubs, community centers, gardens, and public spaces. In 2019, Illuminate Rotherhithe expanded into Bermondsey, with new schools and community groups joining in the celebrations throughout the streets of Southwark. The 2022 parade in Southwark Park drew hundreds of participants and volunteers with their hand-made lanterns, creating a spectacular display of community creativity. Illuminate Bermondsey and Rotherhithe has cultivated positive relationships with many schools and community groups, offering valuable outreach and engaging a diverse mix of local people with Southwark Park for this event. Illuminate Rotherhithe was part of the Mayflower celebration, which has concluded, but we have now partnered with Blue Bermondsey BID and the Blue Market Management Team at BLW to continue the parade, starting from the Blue Market Place.
This project carries on the legacy of the English Heritage Unheard Voices / Hidden Histories project, which explored the multicultural origins of the local working-class community. The parade's grand finale will once again be held at Southwark Park's Bandstand, featuring a display of lights, music, and refreshments. Besides being visually stunning, the park provides a safe space for families and is easily accessible to community members with mobility challenges, making the event inclusive for all. Our goal is to involve everyone in the illuminations!
Illuminate Bermondsey is supported by Southwark Present Cultural Celebration Fund, Rotherhithe Consolidates Charities, MIK, The Blue Market Place, Big Local Works and Blue Bermondsey BID.
Contact
Frog Morris 07909 540 840 frogmorris@frogmorris.net